Cold winter days call for satisfying comfort foods. Fortunately, you can indulge in meals and snacks that will warm your belly without blowing your healthy eating goals. Choose good-for-you comfort foods, such as those in the sample meal plan below, so you can make it through the season without sacrificing good nutrition.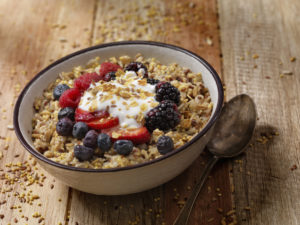 Breakfast: Homemade Microwave Oatmeal
There's nothing quite as warming on a chilly morning as a bowl of steaming oatmeal. Making this dish from scratch allows you to control the amount of sugar in your bowl and also lets you customize the flavor profile. But "from scratch" doesn't mean you have to take the long way.
With this microwave recipe, you can enjoy a bowl of homemade oats without standing over the stove first thing in the morning.
In a microwave-safe bowl, combine 1/3 cup of rolled oats with 2/3 cup of water. Use a tall dish to keep the contents from boiling over during the cooking process. Microwave this mixture for two minutes.
Once time's up, stir in the extras of your choice. Protein options include peanut butter or another nut butter, Greek yogurt or your favorite protein powder. Swirling in a drizzle of honey will provide sweetness. It may also provide some relief for your allergy symptoms. A handful of frozen blueberries adds a burst of nutrients and flavor, and the cold will cool down your oats so they're easier to eat.
Other ingredients to consider include:
Chopped nuts
Cinnamon
Diced apples
Frozen raspberries
Prefer a less sweet version of oatmeal? Go savory with natural, unsweetened peanut butter or a handful of lightly salted nuts. You can get creative, too, using ingredients like hummus, avocados or low-sodium soy sauce as out-of-the-box oatmeal mix-ins. The beauty of oatmeal is that it's the perfect canvas for whatever flavor combo you're in the mood for.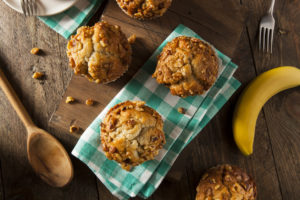 Mid-morning Snack: Banana Nut Muffin
Muffins are perfect for slipping in extra nutrition — for kids and adults. Your regular convenience store muffin might be quick and easy, but it's also likely packed with refined sugars and calories. Instead, make your own over the weekend and store them in your fridge or freezer for the week. Healthy muffins make a great portable snack to ward off mid-morning cravings.
Banana nut muffins are a great choice. From the banana, you'll get nutrients like potassium, vitamin C and magnesium. Walnuts offer folic acid, vitamin E and vitamin B6. And if you make them using whole wheat flour or a healthier flour alternative, you'll gain energy without the crash of refined carbs.
Feel free to use your favorite banana muffin recipe. Just substitute whole-wheat flour for the white flour and cut back on the added sugar. If you're looking for a new recipe, consider choosing one that includes nutritious ingredients like Greek yogurt and maple syrup, such as this one from Well Plated.
While you're in the kitchen baking already, go ahead and make a double batch. That way, you'll have plenty to stash in the freezer to pull out as needed.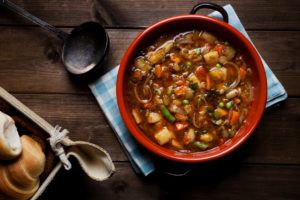 Lunch: Turkey and Vegetable Soup
What's better at lunchtime than a hot bowl of soup? Research indicates that soup, whether paired with other dishes or on its own, can help you feel full without going overboard on calories.
Soups that are rich in vegetables make it easy to pack your midday meal with nutrients, and using ground turkey instead of ground beef can reduce the overall fat content.
For an easy homemade soup recipe, start by browning a pound of ground turkey in a Dutch oven with one diced onion. When the turkey is cooked through and the onion is translucent, pour in a large can of crushed tomatoes, a quart of vegetable broth and a bag of frozen mixed vegetables. Add salt, pepper and minced garlic to taste. Simmer the mixture until the vegetables are thoroughly cooked. Simple, affordable comfort food that makes enough for several lunches? Win-win-win.
To increase your feeling of fullness after consuming a bowl of this simple soup, shake in a few dashes of cayenne pepper. According to one study, soup that contains this spicy ingredient is more likely to satisfy you both while you're eating it and over the next few hours.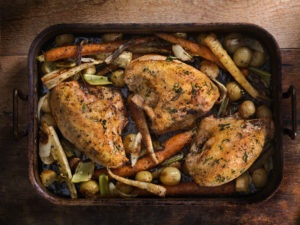 Dinner: Chicken and Roasted Vegetables
Dinnertime offers another chance to enjoy a generous helping of vegetables. Pair the veggies with a chicken breast for a hot meal that hits the spot.
Roasting vegetables is a great way to bring out their flavor. You can choose your favorites, but consider seasonal vegetables like beets, carrots, parsnips and winter squash since they're probably less expensive and readily available right now.
Chop your vegetables into uniform pieces for even cooking, and season them with a small amount of olive oil, salt and pepper. Spread them out on a parchment-covered baking sheet, then slide the tray into a 450-degree oven. Cooking time will vary with the size of your vegetables. Check the vegetables after about 20 minutes. If a fork can slide easily into the biggest piece, they're ready. If not, check them every 10 minutes until they're cooked through. Stir once or twice during the roasting process.
As for your chicken, consider air frying as a healthy alternative to traditional cooking methods. Using an air fryer is a smart way to cook food that tastes indulgent but isn't too high in fat or calories. While the vegetables are roasting, pound a boneless chicken breast to a uniform thickness. Generously sprinkle salt, pepper and your other favorite poultry seasonings on both sides of the breast. Cook it in the air fryer at 360 degrees for 15 to 20 minutes; flip the meat once during cooking.
Don't have an air fryer? No problem. Just prepare your chicken the same way, but put it on a foil-lined pan in the oven along with your veggies. A single pound of chicken breast won't take long to cook, so stick it in the oven about halfway into the roasting cycle of your vegetables. For specific instructions and a different approach, check out this recipe from Gimme Some Oven.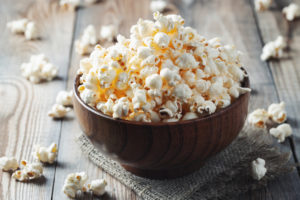 Evening Snack: Air-popped Popcorn
Popcorn makes a great snack if you stick to the basics. If you don't want to make your own, look for prepackaged varieties with minimal ingredients. (Eat This, Not That! ranked 30 kinds of microwaveable popcorn by their nutritional value if you want a place to start.) Popcorn is easy to make on your own, though, if you're up for the task.
For the basic recipe, all you need is a paper lunch sack and 1/4 to 1/3 cup of unpopped popcorn kernels. Pour the kernels in the bag and fold the top over a few times. Note: Don't staple it closed. Metal + microwave = disaster. Place the bag in the microwave, and cook it on high for about two minutes.
Because microwaves vary, listen for the sound of popping to slow down, as you would with a store-bought package of popcorn. Yours may take less than two minutes to cook.
For extra flavor, mix about a teaspoon of olive oil and a pinch of salt with the kernels before or after popping. Seasoning ideas include:
Chili powder
Nutritional yeast (a passable imitation of "cheesy" flavor)
Cinnamon
Matcha powder
Lime juice
Garlic powder
Popcorn is a whole grain that's high in fiber and protein. As long as you go easy on the salt and butter, this can be a reasonable snack to enjoy by the fire at the end of a day of healthy, well-balanced meals.