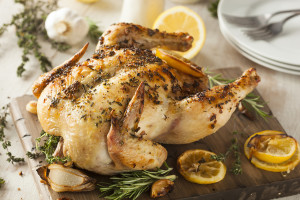 Consuming Chicken Can Provide These Health Benefits:
Reduces Your Risk For Arthritis – Aside from containing protein, chicken is rich in selenium which is known to reduce your risks of arthritis, it also contains bone strengthening calcium and phosphorous.
Reduces Your Risk For Heart Disease – Chicken is also rich in vitamin B6 which lowers the amounts of homocysteine in your body, homocysteine is one of the major contributors associated with increased risk for heart disease and heart attacks. Chicken also contains considerable amounts of cholesterol lowering niacin, and as you probably know high cholesterol is a leading cause of heart attack and stroke. Another heart healthy benefit from chicken is that it is an excellent source of omega-3 fatty acids, a known antioxidant with cardiovascular benefits.
Reduces Illness by Boosting Immunities – No longer a wives tale, the curative value of eating chicken soup is now based on science. The most widely cited of the studies is one by Dr. Stephen Rennard, published in 2000 by the medical journal Chest which suggests that there are specific medicinal benefits; including the ability to significantly inhibit neutrophil migration, act as an anti-inflammatory, and relieve upper respiratory infection symptoms.
Reduces Stress Levels – Chicken contains tryptophan which produces a calming, even restful or sleepy effect on people after consuming it. It also contains vitamin B5 also known as "the anti-stress vitamin" or pantothenic acid which helps regulate the secretion of cortisol and aids in the production of stress relieving hormones. Clinical studies have found that vitamin B5 also helps to reduce depression and anxiety, relieve migraines, and help people who are trying to quit drinking or smoking.
Reduces Symptoms of Pre–Menstrual Syndrome – Chicken contains the nutrient magnesium, many women who suffer severe PMS can gain relief of the symptoms by boosting their magnesium level which may become depleted due to hormonal changes that occur during menstruation.
Promotes Muscle Mass – A 100 gram serving of chicken breast contains 29.80 grams of protein, it is great for people who are eating healthy amounts of protein to build and maintain muscle mass. Chicken is touted as one of the healthiest sources of lean meat, that is also high in protein and is recommended by the American Heart Association as a healthier source of lean protein in place of red meat.
Boosts Testosterone in Men – Chicken contains the mineral zinc, consuming mineral rich foods that contain zinc assists in regulating testosterone and promotes sperm production.
Enjoy this healthy chicken recipe today and get your healthy lifestyle started!
Balsamic Chicken con Pomodori
Serves: 4
Utensil Needed: Large Skillet
Nutritional Information
Serving Size: 308 g
Calories: 505
Total Fat: 23.9 g
Saturated Fat: 5.6 g
Total Carbohydrates: 2.4 g
Protein: 66.2 g
Ingredients You'll Need:
¼ cup balsamic vinegar
¼ to ½ cup (to your taste) of stacked fresh basil leaves cut into thin strips
2 Tbsp. Olive oil
4 boneless 8 oz. chicken breasts (skinless)
8 ounces of cherry tomatoes cut in halves
Salt and fresh ground pepper
Cooking Instructions:
Place a large skillet on medium heat, heat oil till shimmering. While oil is heating pat chicken breast with paper towels to remove liquid.
Season chicken breast generously with salt and pepper on both sides.
When oil is heated arrange chicken in the bottom of skillet spread out evenly in the pan. Do not move chicken, allow chicken to cook about five minutes, caramelizing (until golden brown) on one side then flip each breast over.
Cook for another five minutes, when the chicken is golden brown add tomatoes, balsamic vinegar and basil. Cover the skillet and cook for approximately five more minutes, or until the chicken has reached 165 degrees Fahrenheit in the thickest part of the breast and tomatoes have simmered and released their juices.
Remove skillet from heat and divide the contents into four equal portions.
This meal is best served over white or brown rice, couscous or with a slice of garlic toast. You can also reduce the calorie count by using smaller portions of chicken. Bon Appetito!
Nutritional Information
A 100 gram serving of chicken breast contains the following:
Vitamins:
Vitamin A – 93 IU
Vitamin B1 (thiamine) – 0.066 mg
Vitamin B2 (riboflavin) – 0.119 mg
Vitamin B5 (pantothenic acid) – 0.936 mg
Vitamin B6 – 0.56 mg
Vitamin B12 – 0.32 mcg
Vitamin D – 5 IU
Vitamin E – 0.27 mg
Vitamin K – 0.3 mcg
Folate – 4 mcg
Niacin – 12.71 mg
Minerals:
Calcium – 14 mg
Copper – 0.05 mg
Iron – 1.07 mg
Magnesium – 27 mg
Manganese – 0.018 mg
Phosphorus – 214 mg
Potassium – 245 mg
Selenium – 24.7 mcg
Sodium – 71 mg